Reviewed: Glamglow's Weird New Gravitymud Mask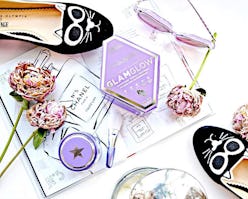 If you've tried one of the six popular Glamglow masks already, you were likely intrigued when a peel-off version was announced. But it's a whopping $70 a pop, so we thought you'd want to know everything about it before dropping that cash. Here, we try it out.
Glamglow Gravitymud Firming Treatment, $69
First on the to-know list: On the outside, the Gravitymud mask looks like its counterparts (it's packaged in a brightly colored jar), but there are differences. It comes with an application brush. Unlike the others, the formula is watery so you have to paint it on. Also new: the piña colada scent.
@thomasrachel
Test-drive: I covered my face with the pearly white mask, which quickly became more metallic by the minute. Half an hour later, I looked like the tin man (see beauty blogger Rachel Thomas below). Now for the fun part: Peeling off the mask was easy and as satisfying as you can imagine. It came off in a single piece and my skin instantly looked brighter, softer and firmer.
My newfound firmness was amazing but short-lived. The formula is packed with hyaluronic acid to give skin an instant plump, as well as Icelandic kelp, algae extract, antioxidants and a polymer that works as a temporary face mask. Have a big night coming up? Consider this your pre-game warm-up.