How To Overhaul Your Skincare Routine In 10 Days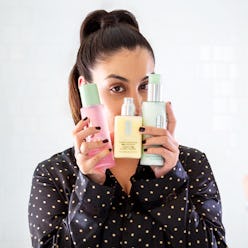 As someone who deals with combination skin (super oily in the T-zone and relatively normal everywhere else), I've always approached my skincare regimen from a more-is-more perspective. And in an effort to combat the oiliness at the center of my face, I've definitely overdone it at times. Here, what happened when I rethought my overloaded routine and got back to basics.
Before
Fact: The very first skincare set I ever owned was the Clinique 3-Step Collection. It was a gift for my quinceañera, and while I wasn't yet the skincare junkie I am now, I remember being so excited to indulge in a daily ritual of cleansing, exfoliating and moisturizing. Although I was every bit the hormonal teen, my skin was flawless at that age (though I didn't realize it then, of course).
Today, the texture of my skin can use some help. I've been breaking out lately and my T-zone is experiencing an oil flow no number of blotting sheets can manage. So I decide to reacquaint myself with my OG skincare trio to see if I can recapture my youthful glow.
Step One: Cleanse
I take my cleansing routine so seriously—I wear makeup almost every day, so it's important that I get everything out of my pores. I immediately notice a difference after using the extra-mild version of the Liquid Facial Soap—it's so creamy. My makeup melts off instantly, but I can tell it's not stripping the dryer areas. Once I pat dry, my skin feels clean but not tight. So far, so good.
Step Two: Exfoliate
Now that my skin is clean, I move onto my second, and favorite, step: exfoliating. I soak a cotton pad with the pink liquid and sweep it across my entire face. The product gently polishes, removing the layer of dead skin cells that can create a barrier on your skin and block out your moisturizer. The crazy part is, no matter how much I wash my face, the exfoliator always finds built-up oils and excess dirt left behind. I'm loving how clean my skin feels.
Step Three: Moisturize
With that barrier gone, my face is ready for some serious hydration. I usually have a hard time finding a moisturizer that doesn't make my skin feel greasy. This oil-free gel formula is light enough to keep my T-zone shine-free while also keeping the dryer parts of my face dewy and soft all day.
After
It's only been 10 days, but I can already see such an improvement in my skin after doing this simple routine each day. The texture is much more even, and the oils in my T-zone are significantly reduced. My complexion looks brighter and I couldn't be happier. My skincare routine also takes half the time it normally does. Better skin with less effort? Win-win.
Click here to find the best Clinique 3-Step System for your skin type.