This Is How One Editor Got Her Pores To Look Smaller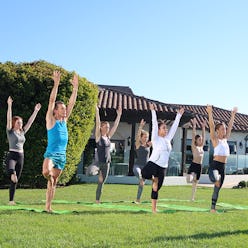 I was invited by skincare legend Ole Henriksen to join him for a week of wellness in Santa Barbara, California in an effort to improve my skin. What I learned in my short time with him at Glow Camp (and during my subsequent six-week challenge) changed my skin more than I ever thought possible. Here, learn how swapping my entire skincare routine and overhauling my lifestyle choices made my skin look clearer—and my pores so much smaller.
My Road To The Ole Glow
My Skin:
I arrive at Glow Camp and am immediately introduced to Ole. Here's where I find out that his name is actually pronounced "oo-luh," and I immediately fall in love with him. His positivity radiates across the room and I instantly feel happier, more inspired and so relaxed. We sit down and talk about my skin. My biggest concerns are excess oils and large pores; Ole knows exactly what to prescribe.
He introduces me to his all-new line of oil-controlling products that includes a hydrator, cleanser and toner, and gives me some brief lifestyle tips for updating the way that I eat, live and exercise. I am completely on-board. I've struggled with oily skin since hitting my 20s, and it makes me so self-conscious. I'm willing to do anything to help treat my greasy T-zone.
Find Your Balance™ Oil Control Cleanser:
In our one-on-one, I explained to Ole that I am notorious for over-cleansing. I have my own triple-cleanse method that includes an oil-based makeup remover, a detoxifying cleanser to reduce oil production and an exfoliator to soften and brighten my skin. It wasn't until Ole introduced me to his new products that I had an epiphany: If I use a select few products in my skincare routine that do all of these things, I won't need to overload my skin (or my shower) with so many items.
To get me on the path to achieving my Ole Glow, I swap all my cleansers for the Find Your Balance™ Oil Control Cleanser. The first thing I notice is the scent; Ole tells me to take deep breaths and immerse myself in the spa-like smell and feeling, which he says is also important, but we'll get into more on that later. The smell of eucalyptus calms me, while ingredients in the Green Fusion Complex™—a proprietary blend of potent active botanicals including green tea, eucalyptus, algae and Irish moss extracts, with natural antiseptic properties—and neem seed oil helps deep-clean my pores and banish oils without drying my skin. Also packed with glycol and lactic acids, the oil control cleanser exfoliates dead skin without being too abrasive. All in all, this cleanser removed my makeup, significantly reduced oil production and polished my skin—considering that I used to use three different products to do all of this, I'm impressed.
Balancing Force™ Oil Control Toner:
When we move to the subject of toners, I am totally in my element. I swear by toners—I feel like I'm doing my oily skin a huge service when I hit it with a soaked cotton pad. That being said, I'm also a major toner snob. I hate the burning feeling that you get from most astringents, and some can be super-drying, so I tend to tread carefully. Ole explains that the Balancing Force™ Oil Control Toner is also packed with the Green Fusion Complex™, neem seed oil as well as glycolic and lactic acids to unclog and minimize the appearance of pores. This is music to my ears, because the size of my pores has been a problem my entire life. I hate that even when I wear makeup, all you can see is the pores on my nose staring back at you.
The verdict is in: I'm obsessed with this toner. I've even decanted it into a spray bottle and use it as a face mist throughout the day. Ole also taught me a nice little trick to press the toner into the skin, instead of just wiping it across my face, for added results. After my six-week challenge, I'm speechless about how much smaller the pores on my nose look. I used to rely heavily on my pore-minimizing primer, but I've ditched it altogether recently—thanks to my new favorite toner.
Counter Balance™ Oil Control Hydrator:
When it comes to moisturizers, I have to be picky. I stay far away from anything that makes my oily skin look even more greasy. But on the other hand, I love the feeling of feeding my skin with tons of hydration. When I hear that Ole's new Counter Balance™ Oil Control Hydrator reduces oil, shrinks the look of pores and hydrates skin while keeping it completely matte, I can't wait to slather it on.
A common misconception for people with oily skin is to stay away from hydrating oils, but actually fighting oil with oil is the best tactic. This neem seed oil-infused moisturizer, which is also loaded with the Green Fusion Complex™, glycolic and lactic acids as well as rosehip fruit extract to fight excess oil production, gives your skin all the good stuff without making you look greasy. I love how hydrated my skin looks and feels, and how it also works under my makeup. I don't have to reapply powder foundation to my T-zone every couple of hours—that's a win in itself.
Better Inside:
I'm known to keep a well-curated arsenal of beauty products, but truth be told, when it comes to my day-to-day nutrition choices, I can certainly do better. I don't drink nearly as much water as I should, and while I love foods like salmon (rich in Omega-3s) and berries (packed with antioxidants), I never realized just how much my diet plays into the overall appearance of my skin. During my six-week Ole Glow challenge, I start to pay more attention to the foods that feed my skin as well as my appetite.
Better Outside:
The biggest lesson I learned at Glow Camp with Ole Henriksen is to take the time to focus on my mind and body. During our stay in Santa Barbara, we made it a point to not only eat well, but to meditate and get active. I'd give anything to be able to do a yoga class overlooking the ocean every morning, but since I've returned to the real world, I've taken the time to stretch and engage in breathing exercises when I feel stressed or overwhelmed. Stress leads to breakouts, so it's important to nip it in the bud. Remember when I talked about how Ole suggested that I immerse myself in the smells and feelings of each product? Taking the time to treat yourself, and finding that "balance" in your skincare routine as well as in your day-to-day life, is what the Ole Glow is all about.