20 Natural Beauty Brands You Didn't Know About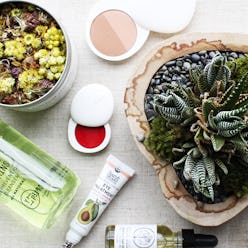 We know that you are what you put in your body but as it turns out, you are also what you put on it. From hair and skin products to nail care and makeup, we rounded up everything you need to look and feel beautiful. Here, 20 under-the-radar natural beauty brands you may not know about but that you should work into your repertoire ASAP.
Beautiful From The Inside Out
Fig + Yarrow
This organic skincare line uses ingredients like minerals, oils, leaves and flowers in its full range of face, hair and body products.
Davines
With ingredients like olive oil, omega 6 and carrot extract, products from this family-owned brand have made our hair shiner and stronger than ever.
W3ll People
This all-natural makeup line has the same pigment and coverage as our favorite high-end brands—sans the harmful chemicals.
Youth To The People
Made in California, this 100% vegan, cold-pressed skincare line only carries the essentials: cleanser, serum and moisturizer. Since they're loaded with kale, spinach and other miracle ingredients, these 3 products are all you need.
Lilah B.
Formulated with algae and aloe, this range of products (which ranges from foundation to lip colors to cheek tints) is good for you and looks good on your skin. Our favorite part is the minimal but chic packaging.
Rahua
Loaded with rahua oil–which is grown and processed in the Amazon— this shampoo-and-conditioner duo makes your hair strong and super shiny.
Alima Pure
This mineral makeup brand carries everything from primer to eye shadows—and they come in a rainbow of colors.
Skinfood
This skincare and makeup brand has the essence of Korean beauty products (with items like milk-face mists and snail-slime masks) and the ingredients of a natural beauty brand.
Trust Fund Beauty
This vegan and cruelty-free nail brand boasts lacquers in every shade and our favorite plant-based nail polish remover that actually works.
By Rosie Jane
These tiny lip-and-cheek pots are the only item in this line, but we love the bright colors and convenient size.
Sundara Holistic
This all-natural skincare line has everything you need to look and feel healthy. Slather on a few drops of oil and get strong, shiny hair or beautiful, balanced skin.
Ila
With plant-based formulations and aromatherapy benefits, the products in this natural beauty line are sourced to make you more beautiful inside and out.
Skinnyskinny
This certified-organic line of skincare, hair and bath products looks as good in the packaging as it feels on your body.
100% Pure
With a fitting name, this brand is comprised of natural skincare products and fruit-dyed makeup. It is also run out of a solar-powered corporate office, packaged in recycled containers and labeled with biodegradable vegetable ink.
Nourish Organic
Become the healthiest version of yourself with this full range of organic, cruelty-free, gluten-free and mostly vegan beauty products.
Lush
These skincare products are mixed and packaged fresh when you order them. They're as good as DIY-ing—sans the mess and hassle.
Odacite
Everything from the toners to the face masks in this line are comprised of certified, organic ingredients. Our favorite products are these plant- and fruit-based facial serums.
Grown Alchemist
This organic skincare line focuses on antiaging and is formulated without harmful chemicals.
Erin's Faces
Formulated with green-tea extract, aloe and vitamins, this makeup line feeds your skin while making it healthy from the outside in.
Osmia Organics
Get healthy skin with all the products you need, from face toner to hand soap.