Things Women With Perfect Skin Do First Thing In The Morning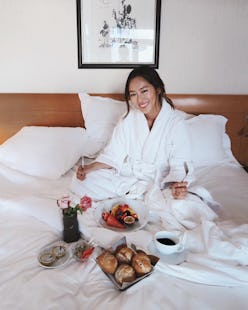 What you do as soon as you wake up can have a major impact on how your complexion looks not only for the day ahead, but also for the long haul. To ensure you're putting your freshest face forward, we're sharing our favorite early-bird skincare tips. Follow these guidelines, and you'll be one of those women with an enviable, effortless-looking glow from morning to night.
Good Morning, Beautiful
Exfoliate
Sloughing off dead skin cells is the perfect way to wake up your complexion. It also removes the invisible layer of overnight buildup that creates a block between your skin and your go-to skincare products.
Apply SPF
Whether it's the middle of summer or the middle of a blizzard, you need to apply sunscreen every single morning. The slightest bit of sun damage can lead to premature aging, dull skin and sun spots—not to mention an increased risk of developing skin cancers. While makeup with built-in sunscreen is great, don't rely on it solely. We recommend a standalone SPF 30 for daily use.
Drink Water
It's common to wake up feeling dehydrated (you've just spent about eight hours with no water intake, after all). But this can leave your complexion looking dull and dry with pronounced fine lines. Drink up first thing in the morning, and keep the H20 flowing all day.
Give Your Face A Massage
Since late nights and early mornings can lead to a puffy face, try a facial massage to reduce swelling. Use a device or just apply your go-to skincare products in an upward circular motion. Be gentle around the eyes. Bonus tip: Store your eye cream in the fridge to tackle unsightly bags.
Eat Breakfast
The right morning nosh can be the difference between a dull complexion and a glowing visage. Oatmeal is a skin-friendly option—it's rich with antioxidants and fiber. Blueberries, strawberries and raspberries all contain vitamins C and E, which are great for feeding your skin. Vitamin C restores by helping produce natural collagens, while vitamin E keeps skin hydrated and smooth. If you don't have time to make breakfast on a busy morning, add a scoop of an antioxidant-packed supplement into your smoothie.