This Beauty Tool Gives You The Equivalent Of A Facelift, According To Khloé Kardashian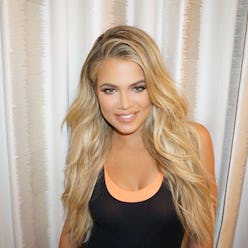 The Kardashian sisters are known to splurge on some wild procedures in the name of beauty, and while many of them aren't realistic for your average working girl, most of us can relate to wanting to look younger, fresher and lifted. Today, Khloé took to her app to reveal her favorite way to give her face a lift—and not only is it affordable, but it doesn't even require a visit to a professional. "I call this my 'magic wand of beauty,'" she wrote about the Nurse Jamie Uplift Massage Beauty Roller. "Not only does it lift and smooth, but it preps your skin to absorb products so you get the most out of them. This little gem is a lifesaver for jet-lagged, post-party or just plain 'meh' skin." We're sold!
Encrusted with 24 tourmaline stones, the device's hexagonal base is designed to roll across your face to boost circulation and tighten skin. Our favorite part is that it doesn't involve needles or a trip to an expensive doctor. Bonus: You can even use it on your body! Buy the wand for $69 here.
Here's how to use it: