Dakota Johnson Shows Us How To Look Amazing In A Selfie (Without Makeup)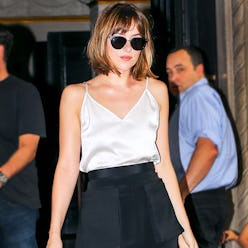 Dakota Johnson has built her entire career on everything but a full face of makeup. Letting her talent and natural beauty do all the talking, the 26 year-old actress is known for keeping things minimal and fresh. Sure, she busts out the red lipstick every now and again, but for the most part, she knows that the base of any great beauty look starts with great skin, which is why we aren't surprised that she just joined the bare-faced selfie crew. Here are four products every girl should have in her medicine cabinet in order to achieve the same confidence:
Serum: What most people don't realize is that a serum can give you most of your skin's hydration. Since it has a thinner consistency than a moisturizer, serum soaks deeper into your skin, making it softer and brighter. Click here to find the best one for your age and skin type.
Moisturizer: While they also, of course, moisturize, heavier creams are meant to act as barriers to keep pollutants and free radicals from penetrating your skin. Click here to shop our favorite drugstore moisturizers.
Sunscreen: Did you know the number one cause of aging skin is sun damage? If the photo of that truck driver showing severe aging on the left side of his face isn't enough motivation to apply sunscreen every day, we're not sure what is. Our advice: Wear. It. Every. Day. Here are our favorite ones.
Face Masks: Whether you lack hydration or are looking to deep clean your pores, a weekly face mask is the perfect way to re-set your skin. Shop these affordable ones for a perfect complexion stat.
As Dakota beautifully shows, once your skin is flawless on its own, your makeup is just the cherry on top.
@dakotajohnson