How To Make Your Summer Glow Last Until Fall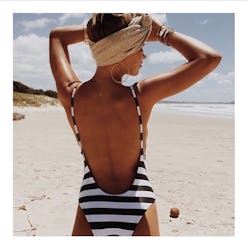 Aside from minidresses, fab weekend getaways, and lazy beach days, our favorite summer perk is our sun-kissed tan. And while we are excited about transitioning into fall (hello, chunky knits and boots), we're not quite ready to bid adieu to our summer tans. Already feeling the withdrawals? Follow our 5 steps to make that precious tan last until next season.
Here To Stay
Photo: @sttropeztan
Put In The (Prep) Work
A long-lasting tan begins with prepping your skin correctly. Before exposure, apply a lotion that checks off both UVA and UVB blockers and enriches with argan oil and Vitamin E. This prevents burning and decreases the chances of your tan peeling off.
Give Your Tan A Boost
Give your tanning sesh a boost with this paraben, sulfate, and phthalate-free formula that stimulates your skin's melanin (the natural pigment that darkens skin). In other words, you get a deeper tan in less the time.
Keep Hydrated
Basking in the summer sun can leave your skin dry and dehydrated. Replace that moisture with a hydrating, green tea and glycerin-infused gel post-tanning to avoid drying and soothe any sunburn.
Seal It In
The secret to keeping your tan longer is to keep up with daily moisturizing. This drugstore find locks in an endless summer tan with vitamin E and anti-inflammatory aloe vera.
Keep It Going
At the first signs of fading use a self-tanner with a skin-improving ingredient like maracuja oil. Now you can have soft and glowing skin.