This New Product Combats Under-Eye Bags On The Go Without Ruining Your Makeup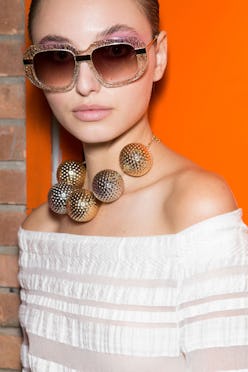 I know I'm not alone: There are days when my under-eye bags end up speaking for me in my afternoon meetings. While I've found a concealer that completely camouflages dark circles, it's the puffiness that I struggle with. I always turn to face mists to keep my skin refreshed and hydrated throughout the day, but it's not enough to target the area under my eyes. A cream seems like the obvious choice, but it would just remove all that concealer I'm packing on rough days. Luckily, I found my new go-to for midday pick-me-ups.
I get excited about anything unconventionally packaged in a twist-up stick—cleansers, moisturizers and perfumes that can be swiped on literally anywhere and make for easy toting deserve a medal. So when the Ilia Cucumber Water Stick landed on my desk, I immediately threw it in my bag and counted down the hours until I could get home, wash my face and test it out. However, a few minutes later, the excitement got the best of me, so right then and there (full face of makeup and all), I cracked open the solid toner and rubbed it on my cheekbones. I figured the day was almost over, so if it took off my makeup, no biggie; at best, it would make my cheekbones glow. To my surprise, it did neither of those things.
The toner glided over my face and melted into my skin like water. It even dried matte, leaving behind a cooling effect and my makeup intact. So the next obvious place to apply it was under my eyes. It's packed with cucumber pulp (for de-puffing), aloe extract (for hydration) and chicory root (for stimulating collagen), which are all the things I need on my eyes at 3pm on a weekday.
A swipe under each eye was enough to wake up my skin and perk up my peepers. And again, my concealer stayed in place, which makes everything so much better. I no longer suffer from afternoon under-eye bags, and you don't have to either.