How To Give Your Face A Super-Deep Clean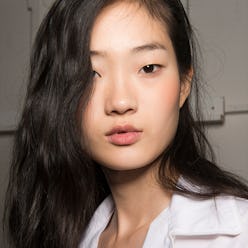 Now that summer is winding down and your pores are clogged with heavy-duty sunscreens, dirt, makeup and sweat, you're going to need more than your average face wash to get it all out. To make sure you remove every trace of buildup, we hunted down eight products that put in some serious overtime. From an oxygen face mask to nose strips that banish blackheads, these beauty buys are all you need to keep your complexion squeaky clean.
Fresh And Clean
The Bioré pore strip has been a staple in our medicine cabinets since high school and is one of our favorite ways to get rid of blackheads.
Packed with charcoal, which acts like a magnet that sucks dirt from your pores, this ten-minute mask resets your skin with almost no effort.
This cleansing brush is made up of thin, extra-soft bristles to buff away blackheads and buildup, perfect for areas like the T-zone and chin area.
If you loved science class in school, you'll love this oxygen face mask. The charcoal-infused blend slowly bubbles into a foam to loosen stubborn blackheads, while the exfoliating beads scrub away excess dirt and makeup. You'll be left with an A+ complexion without a blackhead in sight.
This three-step nose pack leaves skin deeply cleaned by removing sebum, blackheads, whiteheads and impurities while minimizing the appearance of large pores.
We love a twofer, especially when it combines a powerful mud mask and a cleanser. Gentle enough to use daily, this charcoal face wash keeps skin clean at all times.
Created with a powerful (and artistic, we might add) mix of black and white charcoal, this 15-minute mask gets pores super clean without drying out your skin.
This drugstore brand kicks the beloved pore strip up a notch by adding an extra step. Start by scrubbing dirt loose with a pre-soaked charcoal-infused Q-tip, then remove blackheads with a detoxifying pore strip.