This High-Tech Pore Vacuum Will Suck Out Your Blackheads Better Than a Pore Strip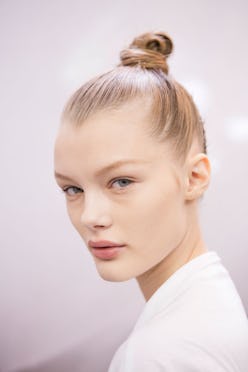 There's a weird enjoyment that comes from using pore strips and examining all the gunk they yank out of your skin. It's strangely fascinating. Sadly, pore strips are not great for your skin's health (apparently, that whole stick-and-rip mechanism does a ton of damage to the healthy skin cells on your face.
Fortunately, now there's a tool that'll help keep your skin clear and healthy while fulfilling your guilty-pleasure need to see the blackhead removal in action. It's called the 17 Diamond Peeling Facial Pore Cleanser, and it appears to be even more satisfying than your go-to Bioré Pore Strips. As Refinery 29 reports, the high-tech tool uses air pressure—sort of like a vacuum— to literally suck the blackheads out of clogged pores. The pore vacuum includes several different settings, so you can customize the strength of the suction to suit your needs (more air pressure for stubborn blackheads; less for super sensitive or easily bruised skin). As you can see in the video below, the device also sucks out oil and dirt and appears to avoid damaging the surrounding skin. And, yeah, it's damn satisfying to watch. Though the product has apparently been around for some time (the video's caption describes the device as the "3rd generation blackhead remover vacuum"), it's just started to pick up steam in the U.S. beauty world. In the past few weeks, several bloggers have posted their own test videos and reviews of the product. And overall, the consensus is that the weird, glowing, blue vacuum works pretty well.
If you're squeamish, you might want to stick to getting regular facials because the pore vacuum will make you confront all the nasty stuff hiding out in your pores. But if you're a Dr. Pimple Popper junkie—or just a run-of-the-mill beauty buff who will do anything for clear skin—this product is probably worth testing out. Best of all? It's only $30. Happy holidays to you, and may your blackheads be banished for good.
See the full article on Allure to check out the magic in action, and nab one for yourself at thevanityplanet.com before it sells out.