Beauty Benefits You Didn't Know Were In Your Grocery Cart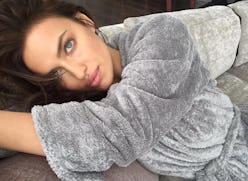 While everyone knows coconut oil cures all, you may be surprised to learn that a slew of other supermarket buys are serving up major DIY beauty benefits. Whether you're looking to amp up your locks or soothe an irritated complexion, these kitchen staples act as great impromptu hair and skin treatments—and help you save money to boot. Ahead, eight multitaskers that give your weekend grocery run new purpose.
Oatmeal
To calm dry, itchy skin, sprinkle a handful in a warm bath, or combine with coconut oil and apply as a face mask.
Cinnamon Leaf Oil
A drop or two on your pout work to naturally plump the lips. No Kylie Lip Kit needed.
Egg Whites
Their anti-aging properties make for a perfect face mask to tighten up and refresh your skin. Whisk egg whites in a bowl and apply like a face mask for 30 minutes. Bonus: Egg whites also help with oil reduction and whitehead removal.
Olive Oil
This acts as a magnet to draw excess sebum from your pores for bright, glowing skin. It's a fitting substitute for makeup remover or face wash.
Grapefruit
The natural acid brightens dry elbows. Cut a grapefuit in half and rest on elbows for 15 minutes.
Coffee Filters
These double as blotting papers to get rid of excess oil throughout the day.
Beer
The yeast in beer plumps up the hair shaft, acting as a thickening agent for thin strands. Pour a generous amount on your hair and let it sit for 20 minutes. Just make sure to condition and rinse well afterward, so you don't smell like you just left a kegger.
Honey
This sweet goo reduces facial redness and kills blemish-triggering bacteria. Apply two tablespoons for 10 minutes to calm inflammation.