This Sold-Out Mask Had A 5,000-Person Waitlist, But It's Back In Stock At Sephora Today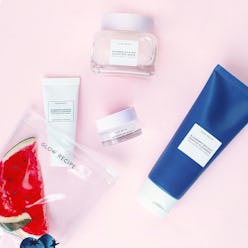 When Korean beauty products first popped onto the mainstream beauty scene, skincare and makeup junkies everywhere clamored to get their hands on the kitschy packaging and outrageous ingredients. Thanks to rapid innovation and incredible results, K-beauty has grown from a niche market to a worldwide phenomenon. Online retailer Glow Recipe was at the forefront of the trend, bringing the best of Korea stateside early on, and it turned out to be so successful, the brand recently launched its own namesake product line that sold out in a day.
Update: To celebrate National Watermelon Day, Glow Recipe has restocked its in-demand Watermelon Glow Sleeping Mask. You can snag one on Sephora.com right now!
Packaged in a chic glass jar with minimal branding, the $45 treatment can finally be part of your own vanity. Judging by its ingredients (watermelon and hyaluronic acid for hydration, AHA for light exfoliation and peony for brightening) and high demand, we predict it won't be there long. Our advice: Get it while you can.
Glow Recipe At Sephora