This Lip Balm Does Everything—It Even Accidentally Plumped Our Lips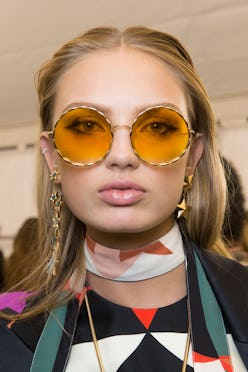 I know I'm not alone, but it feels like I go through more dry-lip spells than the average beauty junkie. I know it's because I don't drink enough water, but isn't that what lip balm is for? For the most part, my lips feel hydrated when I apply it, then they quickly dry out again. I've even tried scrubs, but they're so rough, they end up making the situation flakier. Lucky for me, the latest lip balm to make its way into my makeup bag promises to do it all.
Fresh is known for its amazing lip products, and I'm dying to try its new launch. The Sugar Lip Treatment Perfecting Wand is packaged like a pen. I start by exfoliating using the textured tip of the applicator in circular motions, then from side to side—it's like my lips are getting a mini massage. Once I apply the balm, my lips feel deeply hydrated, not waxy or sticky. It's like putting an expensive cream on your face—your skin is soft and moisturized but not greasy.
But one amazing effect I noticed wasn't touted anywhere on the package. The combination of massage and hydration left my lips feeling and looking fuller. And I didn't have to subject myself to a burning lip-plumping product. It's been a month since I first tried the Perfecting Wand and there hasn't been a flake in sight. It's a triple threat.