Here's How To Have Perfect Skin All Winter Long
Alessandro Zeno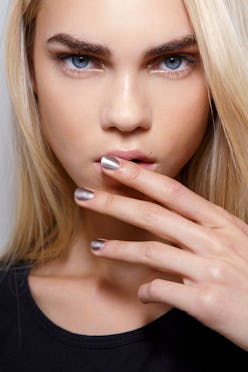 If you're discovering new breakouts or dry patches on your face, it's not you, it's the weather. When the seasons change, so does your skin. While you won't be needing thick daytime moisturizers or heavy oils for a couple more months, some immediate updates to your beauty regimen are in order. To maintain your usual glowy presence throughout the winter, here are the product swaps you should be making ASAP.
Fall-To-Winter Skincare
Tinted Lip Balm
This winter, swap your go-to lipsticks for a tinted balm. That way you get color and moisture.
Moisturizing Body Wash
As temperatures drop, showers get hotter, but scorching water will parch your skin. Combat dryness with an ultra-moisturizing cleanser.
Heavy Night Cream
It's not quite cold enough yet for a heavy daytime moisturizer, but nighttime is fair game. Pack on a cream before bed, and wake up with super hydrated skin.
Sunscreen
Just because you're not laying out in the sun all day doesn't mean you can ditch your sunscreen in colder months. Find a lightweight, translucent SPF that feels light on the skin and seamlessly blend in under your makeup.
Serum
Now that it's getting colder out, reach for a deep-penetrating serum. It'll ensure your skin stays nice and hydrated no matter how dry the weather gets.