Everything You Should Know Before Getting A Tattoo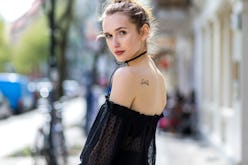 People-watching on the New York City subway became a pastime of mine ever since I moved a 45-minute train ride away from my office. Studying the tattoos people chose to permanently etch onto their bodies interested me, especially the ones that were done poorly. I felt as though I started to notice the bad ones more than the good, so I wondered if there was anything these people could have done to prevent an awful blob of bleeding ink from being forever stuck on their body. To ensure that no one else ends up with any unfortunate work that causes nosy people like me to stare, I talked to Bang Bang and Jonboy, two of New York City's greatest tattoo artists (and best pals), and got the ultimate guide to a great tattoo.
Bang Bang from his namesake studio and Jonboy from West 4 have been trusted to ink many canvases "you don't want to fuck up on," as Bang Bang says. Jonboy has taken his needle to Kendall Jenner's lip and Justin Bieber's face, while Bang Bang put his mark onto Cara Delevingne's foot and Rihanna's finger. It's definitely safe to say these two know what they're talking about.
According to both, the first and most important step is to find an artist with whom you vibe well. Not only do you want to trust the artist, but their art should match the aesthetic you're going for. "It's so easy to do your homework to find out which artists you want to work with. You get to know us without even stepping into the door thanks to social media," says Jonboy.
Almost every tattoo artist now has a regularly updated Instagram account to make finding the perfect person to work with super easy. It used to be, Jonboy explains, that a client would have to walk into a shop to check out an artist's portfolio, which could be intimidating for some. Now, you can just search through Instagram to find someone you like.
The artist you choose wants to do his or her best to give you the tattoo of your dreams because that art stays with you for the rest of your life. They care as much about how it looks as you do, so it's best to come in with a concrete idea of what you want. It makes their life a little easier with some inspiration, that way they don't have to play a guessing game; they're not mind-readers.
These artists are insanely creative, though, so after you express your vision, take a step back and let the artist do their job. "Tattoo artists, especially great ones, want to design the tattoos that they make, so the greatest piece of advice I could give is not to over art direct a tattoo artist whom you've chosen, especially if they're great, and they should be at what you've chosen them for. Let them give you great advice and listen," advises Bang Bang. "We don't have any interest other than giving you a great tattoo."
It's important to love the design because "you have one shot. Once it's on your body, that's it," warns Jonboy. Cover-ups are doable because the creativity is endless with tattoo artists, but the possibilities can be limited depending on what was originally there. Talk to your artist if that's something you're thinking about, and they'll try to work with you to find the best plan.
Bang Bang, who's been getting tattooed for 13 years now, suggests laser removal as an absolute backup. In fact, he did it. He wanted to fade his tattoos enough to properly cover them up because he just wasn't in love with the designs anymore. Laser removal can be a painful and expensive process, as Bang Bang can attest, so it's best to be sure that's what you want.
Before you worry about removal, though, worry about getting good quality work. It's okay if you aren't able to go to the most expensive artist—Bang Bang and Jonboy charge a couple hundred each—but make sure it's an artist you think can give you exactly what you want—tattoo regret is real.
"I would go to the guy that was the cheapest because I didn't have that kind of money growing up, and I've got tattoos on me that could have been done better, but I went to the guy I could save an extra 50 bucks with, so it's important to invest. You get what you pay for," says Jonboy.
Tattoos aren't cheap, but there will be nothing that will stay on your body longer. Although every tattooist differs, the standard for pricing includes time of drawing, placement, and difficulty. Bringing in a pre-drawn item could cut the price because it knocks out drawing time, but you lose the experience of having a custom-made design by the artist.
A big part of tattooing is the experience, hence why it's important to trust and like your artist. Being confident in their abilities can make or break an appointment; it'll also help you move past the pain knowing you're going to leave with some awesome artwork at the end. "There's something about going through pain and coming out with this beautiful piece of art and being a new person. To me, it's worth it," Jonboy says.
According to both veteran tattooers, the pain really is not that bad. "Try to relax and actually see what it feels like, and then react. It's a bit uncomfortable, but it's discomfort, not pain," says Bang Bang. "I mean I don't think anyone has ever died from it."
A tattoo lays in the subdermal layer of skin, so it's not deep enough for extreme pain; though that can also be relative to the person and placement. Jonboy and Bang Bang describe the feeling most like a little pinch. If the ink starts to bleed, causing a blue-tinted undertone, the artist went too deep below the "sweet spot," which can be a problem for the integrity of the work. If too shallow, the ink will fall out. You don't need to worry about either of these things if you picked the right artist, though—he or she'll know what they're doing.
Now those more unique placements for tattoos, like fingers and lips, have become popular, many myths circle around them, but few are actually based in fact. While it's true that high-motion areas are more high maintenance, and that there is a risk of the tattoo fading—especially with fine line tattoos—Bang Bang says that if the tattoo was done well, it shouldn't disappear. Rather, the ink will spread over time, as happens with all tattoos, but if you let it properly heal, you shouldn't have any additional worries.
For more expert tips, check out the full article on Nylon.