Dermatologist-Approved Anti-Aging Tips To Try For Better Skin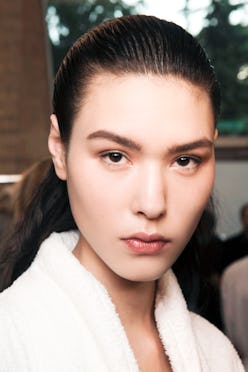 Even the most well-informed and highly skeptical skin-care users (i.e., dermatologists) are buying into these buzzy treatments. Here, we've rounded up the best dermatologist-approved anti-aging tips and tricks to try for your best-looking skin yet.
They're Not Immune to the Hype
Sometimes buzz, hype, and an Instagram blitz happen for a reason—because a treatment is effective and safe. These are three the pros stand by.
Double-cleansing. Washing your face twice—with an oil-based cleanser followed by a water-based one—is a trend. But for Whitney Bowe, a dermatologist in New York City, it's just part of her anti-aging regimen. " Double-cleansing can preserve collagen," she says. Sure, that sounds like a tall order, but Bowe uses a DIY oil cleanser to dissolve makeup easily without the rubbing "that can age your skin." She even takes off her mascara with the oil so she doesn't have to tug on her lashes—"they've gotten thinner with age, so they fall out more easily." Her recipe: two tablespoons of olive oil stirred into eight ounces of aloe vera water. She follows that with Cetaphil Gentle Skin Cleanser to finish the job.
Vampire facials. OK, doctors actually call them "platelet-rich plasma injections," but you're probably more familiar with the Kardashian-popularized term. (In case you missed that episode: The treatment involves injecting extracts from a patient's own blood back into her skin using tiny needles.) It seems bonkers/creepy, but "injecting plasma-rich platelets, which are full of stem cells, could help build new collagen," says Marie Jhin, a dermatologist in San Francisco. "And replacing collagen in your skin as you age is a continuous battle." She does the treatments on herself twice a year; Bowe does the same.
CoolSculpting. This device destroys fat cells with extreme cold—in about an hour. The technique is called cryolipolysis, and it works best on small areas of fat, says Karyn Grossman, a dermatologist in Los Angeles. "I was happy with my overall weight, but fat had accumulated around my upper back and one hip. Two cycles of CoolSculpting completely changed the way my dress fit for my son's bar mitzvah," she says.
They're Serious About Sun Protection
If you remember only one thing from this story, remember this: Sunscreen is nonnegotiable. It helps prevent skin cancer, and people who wear it have 24 percent fewer signs of aging than those who don't, according to a study published in Annals of Internal Medicine. Dermatologists apply it every day, more than once, rain or shine. And they have a few things to say on the matter.
For sheer coverage: Too many sunscreens look obvious on skin of color. "They don't blend in, or they make my skin look gray or purple," says Jeanine Downie, a dermatologist—and an African-American woman—in Montclair, New Jersey. Her solution: SkinMedica Total Defense + Repair Broad Spectrum SPF 34 Sunscreen. "I wear it on my face, my neck, my ears, and the back of my hands every day," she says. "It's very sheer, and I reapply it." For medium skin tones, Mona Gohara, a dermatologist in Danbury, Connecticut, who is Egyptian, says La Roche-Posay Anthelios SPF 30 soaks in very quickly and doesn't leave a chalky cast.
For sensitive skin: "I have rosacea and sensitive skin, so I use mineral sunscreens, which are gentler than chemical ones," says Elizabeth Tanzi, a dermatologist in Chevy Chase, Maryland, who likes SkinCeuticals Sheer Physical UV Defense SPF 50.
For lasting protection: Bowe and Gohara carry around the Colorescience Loose Mineral Foundation SPF 20 Powder Brush for touch-ups over makeup. It contains iron oxides, and "a recent study showed that sunscreens with iron oxides prevent melasma better than formulas without them," says Gohara. It's really (really) important to know, however, that powders are supplements to, not replacements for, traditional sunscreen lotions and creams. Ellen Marmur, a dermatologist in New York City and a premelanoma survivor, applies a tinted formula with SPF, like Chanel Vitalumière Moisture-Rich Radiance Sunscreen Fluid Makeup Broad Spectrum SPF 15, each morning—and then reapplies it over her makeup before going outside throughout the day. "I do a lot of skin-cancer surgeries on the tops of the eyebrows, between the eyes, and around the nostrils, so I'm careful to cover those spots," she says.
For the whole package: Every single dermatologist we talked to layers sunscreen over an antioxidant serum or cream. "That's key for neutralizing the free radicals from sunlight, pollution, and even heat that can slip through sunscreen, damage collagen, and set off pigment production in skin," says Bowe, who likes Olay Total Effects 7 in One Anti-Aging Moisturizer with vitamin E and green tea extract for her sensitive skin. "I wear it at night, too—if you sleep in moisturizer, you wake up with more hydrated and plump skin." And that means fine lines are less noticeable the next day.
They're Full of Surprises
Snoop around a doc's bathroom (nosy) and you'll find three unlikely standbys.
Toner. While those harsh, stripping ones from the '90s still get a bad rap, "I really love my Epionce Purifying Toner with willow-bark extract," says Jhin. It's gentle on the skin because it "has ingredients [like glycerin] that add hydration." She uses it as a daily skin detox—it gets rid of dirt and makeup residue and preps the skin for other products with anti-aging ingredients, like peptides or retinol. Olay Regenerist Micro-Sculpting Cream, and Eau Thermale Avène Retrinal 0.1 are dermatologist favorites.)
Hydroquinone. This skin lightener is banned in Europe, and studies have shown it is carcinogenic in rats when ingested. But most American dermatologists are confident about its safety when it's used topically—so confident that they rely on it to fade their own dark spots. It can brighten even the most intractable pigmentation and works faster than anything else (in as little as two months). Jhin applies a prescription Obagi Nu-Derm product twice a day; Alicia Barba, a dermatologist in Miami, uses Melamix Skin Lightener & Blending Crème Hydroquinone USP 4% at night for two to four weeks three times a year to treat her melasma.
Compression socks. They're not exactly sexy, but Gohara gets four or five pairs at the drugstore "at the beginning of pants season" and wears them daily to prevent the varicose veins caused by standing all day.
For all five tips, check out the original article on Allure.