I Haven't Changed My Face Wash Since High School—Here's Why
Ivan Lattuada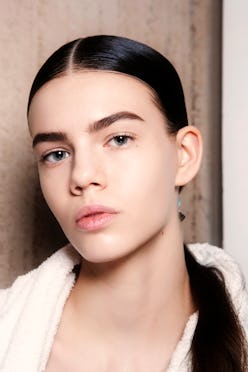 With back-to-school season fast approaching and my own 10-year reunion looming closer with every passing month, I can't help but reflect on my favorite #TBT looks. While I'm no longer committed to Gwen Stefani eyeliner and frosty lips, I've realized there are a surprising number of products I discovered as a teen that I still use today. As a beauty writer obsessed with all things new and now, it feels almost shameful to admit I've been reaching for the same cleanser for over a decade—but I don't plan on switching things up anytime soon.
My cleanser commitment is certainly in part due to Dermalogica Dermal Clay Cleanser's grown-up-worthy formula. I'm very grateful to my parents for indulging what would become a lifelong obsession with skin health, but I also believe I got lucky in that my high-school self opted for a face wash that, as it turns out, nurtures both teen and adult skin. I'm barely in late-20s territory, which means my face is experiencing both peak collagen levels and the ups and downs of hormone-induced acne. My naturally oily complexion still benefits from the unique clay formula, which pairs kaolin and green clays with invigorating menthol and soothing sage.
After all these years, it's hard to imagine starting my day without that familiar minty scent and creamy consistency. It's always helped me get off on the right foot as I transitioned through schools, jobs, cities and relationships. While all things eventually change, especially in regards to my skin—I've recently rounded out my nightly regimen with a serum, for example—my love for this trusty face wash will go on.