I Got A $500 Celebrity Facial And This Is What Happened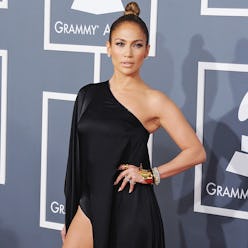 Joanna Vargas is the facialist behind some of Hollywood's most famous complexions. With clients like Julianne Moore and Maggie Gyllenhaal (among others she likes to keep secret, but trust me they're really good!), her treatments are well known in the industry and I've been dying to see her for years. Until recently she was based only in New York, and since I'm in Los Angeles, I'd never had the opportunity. So when I get an e-mail announcing her first West Coast location—right down the street from our office—I book an appointment for the same day.
I walk into a beautiful condo in West Hollywood. It's private, quiet—a well-hidden gem—and I totally get why a celeb would want to come here. I pop into a robe and Joanna gets to work on her signature Triple Crown Facial. A favorite of the red-carpet set, it promises to de-puff and enhance natural contours by lifting the muscles and draining out excess water.
She completes one side of my face to show me side-by-side results, pinching the skin on either cheek to demonstrate the difference in tone. It's so crazy! On the right, she grabs a significant amount of skin, and on the left, she can barely grab anything. My complexion is instantly tighter. She even notes that I may not see much of a difference because I'm too young to have visible sagging. But I see it!
Getty Images
Awards season is the busiest time for Joanna. She tells me that she starts prepping her celebrity clients a week in advance, often giving them a facial on the morning of the event. Ever wondered how your favorite movie and TV stars look so great on the red carpet? Chances are Joanna can take some credit (though she won't because she's so modest), but it certainly comes at a price. To see her personally can cost $550 or more, while another aesthetician on her team runs $175 to $500.
When she finishes my treatment, I'm absolutely glowing! My skin looks firmer, more hydrated and so, so dewy. I joke with Joanna that even my hair is somehow softer. I feel amazing. I no longer wonder how celebrities look so good on the red carpet. I've found the fountain of youth.
How To Get Results At Home
If you're not planning on making a trip to New York or Los Angeles anytime soon, Joanna has a few tips for getting that celebrity glow at home.
Feed your body. "My number-one tip is absolutely my favorite skin fix: Drink a green juice every day. It's a great replacement for your afternoon coffee and it will literally transform your skin in a matter of days. It oxygenates the skin and stimulates lymphatic drainage, so it's de-puffing, too. And eat more avocado! It's the best way to achieve perfectly hydrated skin from the inside out."
Exfoliate. "It's my secret weapon to having great skin, and it's the most skipped step in people's at-home routines, but it really makes a huge difference in the way your skin looks and feels. I recommend exfoliating in the shower so you can use the steam to activate the enzymes. Once out, your skin is nice and fresh."
Go au naturel. "Make the switch to natural products. They have amazing results-oriented ingredients that penetrate more readily into the skin and show real results quickly."
At-Home Facials