Bloggers Share Their Tips For Great Skin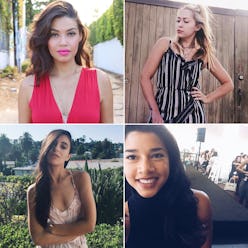 If there's one thing bloggers and It girls know a thing or two about, it's great skin. As being constantly photographed is part of the job description, it's important for this stylish crew to feel confident, beautiful and empowered at all times. Here, the ladies each speak to how their beauty regimens—including the 3-step system from Clinique—get them looking and feeling their best.
Marta Pozzan of It's Super Fashion
"Three products working together to give us beautiful, healthy skin—the 3-step skin regimen is simple and easy. Clinique's doctors have developed these products to suit the way (YOUR) skin works naturally. Whether it's dry or sensitive. oily or prone to breakouts, [Clinique] is in the business to help all of us flaunt great skin always."
Brandi Cyrus of Style Native
"I've been talking a lot about skincare lately, because I'm a big believer in taking care of it from a young age. What I love about Clinique is how simple it is. I even remember using it in middle school when my mom first showed me how to wash my face! I always have such a hard time deciding between products for combination skin and dry skin because I feel like I fall somewhere in the middle—well LUCKY ME! They have a line just for that."
Jess and Stef of How Two Live
"How Two Live and Clinique go waaaaay back…coincidentally it was our very first skin care regimen when we were teens! So cheers Clinique for keeping our skin clean all these years! Inside secret: J used to steal S's cleanser when she was 8 and rub it all over her face."
Eman of Eman Makeup
"I really love Clinique. The products really depend on what your skin type is. But no matter what your skin type is, it's the same concept—you have a cleanser, a toner and a moisturizer. Clinique does the 3-step [process] amazingly."
Hannah Bronfman of HB Fit
"Inspired by the Face Forward campaign, Clinique brought together influencers from around the world to talk all things beauty. We all agreed that internal beauty and being a comfortable in your skin is the key to confidence."
Lynette Cenée
"I have gone back to my roots and decided to go back to the 3-step program from Clinique. It's simple, it's easy to follow and I really enjoy the way it makes my skin feel. That mixed with drinking a lot of water and eating well, my skin has never felt better."
Shoutout to each of these beauty insiders: Hannah Bronfman of HBfit, Jess and Stef of How Two Live, Marta Pozzan of It's Super Fashion, Lynette Cenée of the beauty YouTube channel, Eman of Eman Makeup YouTube channel, Brandi Cyrus of Style Native, and Poppy Jaime of Snapchat's Pillow Talk - Poppy_Jamie.