Why Transparent Face Masks Should Be Added To Your Skincare Routine, Like, Now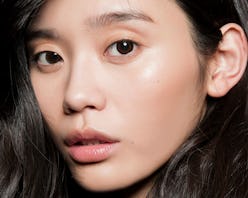 Let's talk about one of our all-time favorite beauty rituals: masking. The routine of it after a long day is a tried-and-true self-care practice for us. But sometimes we pass on this exercise, as using a face mask can be sticky, messy and not the most attractive stuff to walk around in. Now, with all of that said, spending ten minutes with a mask on is definitely worth it, as it's a long-proven solution for reviving dull skin—so let's not see it as a chore. In an effort to prioritize masking in our lives, we've rounded up our picks of transparent face masks, which can be nice alternatives to the heavy-duty, messy varieties that seem like more work than their worth. Ahead, the formulas that give you results without the fuss.
Masked Avengers
For immediate hydration, place this second-skin, saturated mask on your face for 15 minutes. Its key ingredients, camellia, chrysanthemum, and dandelion extract are naturally fermented to penetrate the skin deeper without losing effectiveness. This mask leaves the skin "supercharged with moisture resulting in an instant glow, and its transparent finish gives this mask long-term appeal," states Founder of JB Skin Guru, Jennifer Brodeur.
This mask has a creamy white texture but melts into an invisible finish, "so you can mask in secret—on a plane or wherever your life takes you," shares Summer Fridays Co-founder, Marianna Hewitt. It also has a non-greasy feel and uses ceramides, vitamins and antioxidants to repair overworked skin. This mask earns permanent real-estate in our travel bag since we can apply and go, no rinse-off required.
Sometimes skin needs a serious wake-up call to get it back into selfie-ready shape. LANEIGE Water Sleeping Mask delivers total hydration to fatigued skin. It relies on hydro ionized mineral water and patented technology to form a moisture barrier over the skin while evening primrose extract purifies and improves the skin's tone.
Whether your skin is ruddy and inflamed from hormonal breakouts, rosacea or environmental damages, this super-concentrated, "no gimmick mask" will repair it, explains CEO of Skinfix, Amy Regan. "Its formula is 100% clean and uses multiple clinically validated natural active ingredients to reduce redness and hydrate skin."
When our skin is looking too tired, and lines are more pronounced, we reach for this cutting-edge rose stem cell mask. Five different types of stem cells are blended with four rose extracts to help stimulate cell turnover and restore a youthful-looking glow to the skin.
Feeling extra slick and oily? Then you need to treat your complexion to this liquid magnet peel off mask. It gently lifts dirt and other impurities that are caused by pollution and enhances the skin's appearance through a mild exfoliation. If you are feeling brave, you can apply this clear mask before your commute and remove at work to keep your pores completely clog-free.