The Tool That Promises To Instantly Tighten & Sculpt Your Face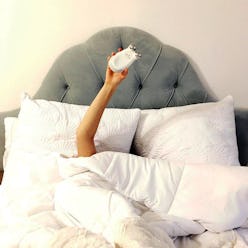 We all hit that age (or will at some point) when we feel our skincare routine has plateaued. What worked in our 20s, 30s or 40s stops reaping benefits and a whole new crop of skin concerns appear. Don't panic, you're not stuck in a beauty rut. Sometimes, all you need is a fresh addition to your regimen that will wake up the muscles in your face. Enter the microcurrent device—a handheld, at-home machine that infuses your skin with tiny electric currents, pulses the muscles and creates a lift. Think squats for your cheekbones, without the pain or trip to the gym. Ahead, five devices that'll give you the pick-me-up you've been needing.
Microcurrent, Macro Results
We're obsessed with this device that not only sculpts our jawline and cheekbones but comes with an attachment to eliminate crow's-feet and fine lines.
Massage your face with this toning device for a treatment that's just as effective as it is relaxing. It even pairs with your phone to deliver customized results via an app.
Get the microcurrent without having to wait for your device to charge. This solar-powered tool gives skin a lift completely powered by sunlight.
Toning should go beyond your jawline—this brand-new tool for the body uses the same microcurrent technology as NuFace's facial device. The only difference is the point of focus, which is difficult-to-target areas like your arms, abs and derrière.