This Eye Makeup Remover Has A Perfect 5-Star Rating On Amazon—And We're Obsessed
Ivan Lattuada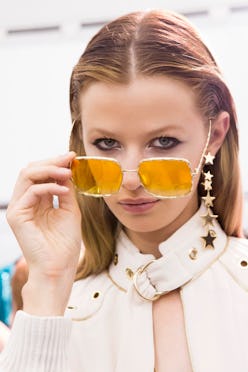 Let me just say, this makeup remover had been sitting on my shelf for months, and now I'm kicking myself for overlooking it. Just to give you some eye-makeup context, I am still layering on this ridiculously good mascara that's close to impossible to remove. I love it, but ever since the first time I used it, I struggle with getting all traces of residue off. Well, that was until I tried Epicuren Crystal Clear Eye Makeup Remover.
Once I finally dusted off the bottle and cracked it open, the first thing I noticed was the consistency. It looked and felt just like a silicone primer (yes, it has silicone in it and, no, I don't mind). There was also no scent, which is ideal for anything that gets close to my eyes. I rubbed a hefty glob (more than I needed) onto my lashes and over the rest of my dry face. It didn't lather or change in consistency, and I continued focusing on my eyes for about a minute before wiping it off with a cotton pad. And, to my surprise, everything just wiped right off—without scrubbing, pulling of the eyelid or, most importantly, that subsequent greasy feeling that you get with some removers. I rinsed the rest of it off and just stared at my completely bare lashes for a bit.
When I went online to order myself a lifetime supply of my new favorite product, I noticed that it has quite the fan base on Amazon. It has received a perfect five-star rating, and multiple comments call it "the best makeup remover." And like we always say, it's easy for one person to love a single product, but when there's a community of enthusiasts behind it, you know it's worth trying.