These Are The Best Products For Super-Clear Skin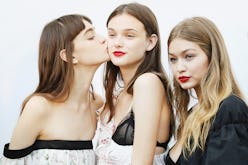 Your face is the first thing people see, so it's understandable that you'd want to try everything on the market that promises to leave your complexion clear and bright. To help you out, we test-drove a slew of acne-clearing products and we're sharing our favorites in each category. From a blemish-fighting spot treatment to a clarifying face oil, shop these picks for the best skin of your life.
How To Get Clear Skin
Best Oil
A triple threat, this blend clears congested pores, treats and prevents acne, and fights aging with salicylic acid and tea tree oil.
Best Device
This three-step acne-clearing kit has you covered from the inside out. Apply the cleanser and spot treatment topically and then use the device for blue-light therapy. Trust us, your breakouts will be a thing of the past.
Best Mask
If you didn't know already, sulfur is a miracle ingredient for tackling breakouts. This mask clears acne, absorbs oil and gives pores a really deep clean.
Best Moisturizer
Hydrate while clearing problem areas with this salicylic-acid and pine-bark cocktail that calms irritation and diminishes redness.
Best Spot Treatment
The next time you see a zit pop up, apply this sulfur and zinc-oxide spot treatment ASAP. It'll be gone before you know it.
Best Cleanser
This soap-free wash unclogs pores but doesn't dry out your skin.