What Beauty Editors Do Every Morning To Look Flawless All Day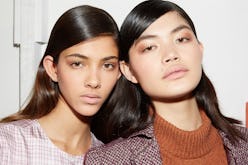 If anyone knows how to indulge in a morning skincare ritual, it's a beauty editor. To get you excited to rise and shine each day (okay, excited might be a long shot, but at least you'll skip an extra snooze), we polled our friends from Byrdie, Bustle and Cosmopolitan to join us in sharing our well-informed beauty routines. Click through for the early-bird tricks that keep us all looking radiant well past dinner.
Make Like A Beauty Editor
"One of the only things I do every morning is apply SkinCeuticals C E Ferulic all over my face and neck. It's an antioxidant serum that protects skin from sun damage and wrinkles. It makes my skin look brighter, and I don't start my day without it. I personally think it smells like bacon when I first apply it, which might also be a reason why I like to put it on every morning."
—Brooke Shunatona, Senior Beauty Editor, Cosmopolitan.com
"I often hear from my fellow beauty editors that while they're obsessive about moisturizing their faces, the skin on their bodies is low on the priority list. I, however, am absolutely addicted to body butters, lotions and oils, and every single morning after my shower I douse myself in hydration from head to toe. I literally cannot move on with my day without applying body moisturizer. Perhaps it's because of my keratosis pilaris; maybe it's simply out of lifelong habit. But if I had to choose one beauty activity in the morning, it would be oiling up, no question."
—Amanda Montell, Associate Features Editor, Byrdie
"I always drink a tall glass of water, followed by taking flaxseed supplements. The two combined help boost my metabolism and help me detox throughout the week."
—Andrea Navarro, Associate Beauty Editor, The Zoe Report
"I'm the opposite of a morning person, so the one thing I do in the name of beauty is quick and easy: I cleanse my face. Depending on the product I used the night before, I'll either sweep micellar water over my skin with a cotton pad and move on with the rest of my routine, or I'll cleanse more thoroughly using Renée Rouleau's Moisture Protecting Cleanser and give myself a 10-second facial massage as I'm rinsing it off. It's always tempting to skip cleansing and just wipe my skin with a makeup wipe (especially if it was, ahem, a late night), but I notice the difference in my skin almost instantly."
—Faith Xue, Editorial Director, Byrdie
"I always try to get a workout in. Whether it's a high-intensity interval training class or a walk with my dog, getting my heart rate up and my blood flowing makes my body and mind feel great. Plus, the post-exercise glow ain't too bad either!"
—Sara Tan, West Coast Fashion & Beauty Editor, Bustle
"I take the time to do a full-body exfoliation in the shower each morning. I have dry skin and can easily get flaky, so I make sure to do a full-body rubdown, which actually doesn't take very long. This vitamin C body polish is basically my morning OJ replacement."
—Stephanie Montes, Senior Beauty Editor, The Zoe Report