This Crazy At-Home Antiaging Treatment Actually Works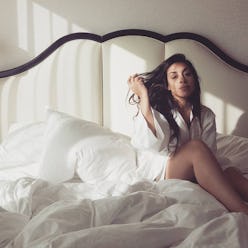 You know the saying "pain is beauty," but how far are you willing to go for a younger-looking complexion? If you're me, pretty far. And the good news is, I can test out all the scary products and treatments and report back so you don't have to. The latest delivery to my desk is the 111 Skin Meso Infusion Micro Patches. They look innocent enough, right? Wrong. So wrong!
I have to admit, I don't know exactly what I'm getting into when I open the box. I think I'm going to pop on ordinary, run-of-the-mill eye patches—even though a pack of four costs $160—and settle into bed with a movie in the hopes of erasing all signs of fatigue stemming from the past couple of late nights.
Here's where things get interesting: I unwrap the individual patches and remove the film on the back. I quickly realize the "micro structures" are tiny needles! I'm not backing out now, so I firmly press them onto my under-eye area (as the packaging suggests). Yes, it hurts—it's not excruciating but it definitely stings. In the first few minutes, every time I change my expression, I can feel the needles holding my skin in place. As time passes (I forget to set a timer, but it seems to have been well over 40 minutes), I can no longer feel it. The eye patches haven't dissolved, but I give up and peel them off. That's when I realize the patches aren't supposed to disappear, the needles are. They've dissolved into my skin, and according to the box, they've injected my eye area with hyaluronic acid and vitamin C.
Once the patches are off, I don't notice much of a difference. The area feels a bit sore, but my dark circles are still very much visible. It isn't until the next morning that I realize the bags under my eyes are significantly reduced. The area is lighter and those tiny fine lines are gone. All in all, the patches have a lag time, but another one of my favorite sayings is "late, but worth the wait"—definitely true in this situation.
Intrigued? Shop them below.
Not into needles? Flip through to shop our pain-free favorites, next.