The Coolest Beauty Devices On Amazon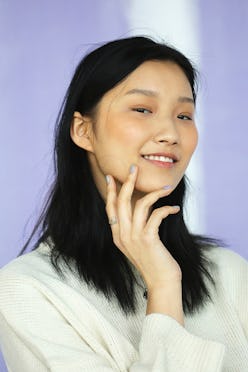 Whether online retail therapy is your guilty pleasure or you just hate cutting into time you could be spending binge-watching shows, Amazon Prime is the go-to site for most impulse (and life) purchases—and that includes the beauty department. Within a few minutes of perusing the forest of options, you will find some seriously cool skincare and makeup devices that will make life a lot easier (and prettier). Ahead, explore what you've been missing from your daily beauty regime. Seriously, your hair and skin will thank you.
Tools Of The Trade
The Wet Brush
Tame your tangles without pulling an arm muscle! The Wet Brush makes it outrageously easy to brush through wet and unruly hair. This brush is revolutionary and will shave time off your beauty routine.
Dry Brush
Not only will the dry brush assist your skin in becoming softer and visibly smoother, but it is also helpful for lymphatic drainage. Technically, there is no right or wrong way to dry brush, but it is suggested to start at the hands or feet and brush towards the heart. Benefits include higher energy levels, exfoliated skin and cellulite prevention.
Velour Puff
This uniquely designed puff is made of a soft material that is easily washable and can be used over and over again. The powder puff holds your product and allows you to apply powders in a way that mattes the face's oily shine and makes your makeup look last longer.
Eyelash Curler
Subtle eyelash curl can make a huge difference in your overall eye make-up appearance. The lashes give definition to your eyes and make you look more approachable, so they might as well be curled to a T. The Shiseido curler's soft rubber pad will leave your lashes undamaged while taming them and adding volume, so batting your eyelashes will be guaranteed to catch the eyes of others.
Jade Roller
An Instagram craze that's more alluring to watch than your favorite meme. The Jade Roller is truly a tool for everyone. For aging skin, it helps smooth wrinkles and fine lines. For younger skin it helps prevent skin damage and reduces inflammation. The roller helps with overall skin smoothness and facial circulation. You'll be receiving serious face benefits from this addicting rolling habit.
Stainless Steel Slant Tweezer
Tweezerman is known for superior quality tools that will last a lifetime and then some. Nobody enjoys the pain that comes from plucking fine hairs from ones' brow bone, so you might as well make it as painless as humanly possible with Tweezerman Stainless Steel Slant Tweezers.
Their finely combed slanted edges easily grab short elusive hairs, like no other tweezers you've ever owned before.
Curling Iron with Multi-Heat Control
Curl it, crimp it, wave it, you name it! The Hot Tools curling iron is the most versatile curling tool on the market! The 1 1/4" barrel with the clamp is easy to use for all. Not a fan of the clamp? Fine, do not use it and get mermaid style waves. Looking for beach waves rather than a Shirley Temple do? Perfect, utilize the clamp and keep the ends loose. Lusting after volumized romantic curls? You got it, start at the crown of your head with large sections of hair and angle the iron downward. The iron is complete with a multi-heat control setting, so you do not need to worry about damaging your hair but can also raise the heat a bit if you need some quick and instant styling.
Light Therapy Acne Treatment Mask
"It's lit"… literally. The Light Therapy Acne Treatment Mask is designed to treat blemishes, boost collagen, and help with existing and potential facial scarring. The light kills the bacteria on your face, making your overall complexion radiant and clean.
Sonic Facial Cleansing Brush System
Let your skin breathe! By using a Clairisonic face brush, accompanied by a cleansing product, you can remove filth from your pores, prevent age lines, and remove residual makeup, giving yourself a more flawless complexion. Beware, using it everyday can be detrimental to those with sensitive skin, in that case, bi-weekly skin brushing is key. Clairsonics can be personalized to your unique taste whether it be with a different color, brush head, engraving, or product you use with the face brush. It is all up to you and your preferences.
Supersonic Hair Dryer
Give yourself a professional looking blowout without the trip to the salon. Not only is the device futuristic and technologically beautiful, but it is also the best for your hair. The hair dryer's air temperature is measured 20 times every second, which is to keep the temperature under control. Instead of drying out and damaging your hair's natural oils, it envelopes it and keeps your hairs' natural shine. The light weight dryer is quicker than any other dryer currently made. Strengthen your hair by using a dryer rather than letting it air dry. Recent studies have shown overwhelming evidence that by using a hair dryer at a reasonable distance and temperature it actually causes less damage than if you were to let your hair air dry. When hair is wet it swells, so using a Dyson (with some heat protective product of course) is the best thing you could possibly do for your mane.