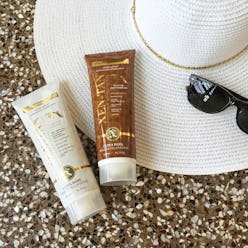 By now, everyone under the sun (pun intended) knows that laying out is bad for you. Thankfully, there are a multitude of ways to fake a glow, many of which include Xen-Tan's easy-to-use tanning products. Here, six tips for looking like a bronzed goddess this summer—minus the sun damage.
Bronzed Skin, Without The Damage
1. Start With A Great Self-Tanner
The best way to give your skin some color without the harmful UV rays is to apply a self-tanner. Feel intimidated? Check out our guide to getting a streak-free glow.
2. Wear A White Bathing Suit
Since you're showing the most skin when you're in a bikini, opt for an easy-to-apply mousse. Now that you're glowing, throw on a white bathing suit and the contrast will immediately make you look a shade darker.
3. Opt For Brightly Colored Sandals
Give your gradual self-tanner a bit of a boost by being strategic with your accessories. When it comes to sandals, the brighter the colors, the more tanned you'll look.
4. Pile On The Gold Accessories
After applying an ultra-dark tanning lotion, your skin will have a gorgeous golden hue. Enhance it with yellow-gold jewelry.
5. Protect Your Face With A Raffia Hat
Shielding your skin from UV rays is of the utmost importance (no one wants to suffer premature aging and pigmentation). Use an antioxidant-infused face tanner to give your complexion a healthy dose of color and throw on a wide-brimmed raffia hat to keep you protected.
6. Finish Your Look With A Pastel Caftan
Pale colors have a way of making your tan pop. Pump up your shade between weekly at-home tanning sessions by pairing your bathing suit with a summery pastel top.