5 Ways To Know If Your Skin Is Dehydrated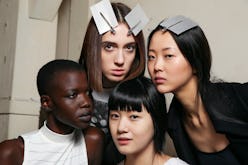 Between the seasons changing and busy schedules interfering with your water intake, dehydrated skin can happen to anyone—and no, you're not exempt if you have oily skin. To get your complexion back to it's healthy, hydrated state, we tapped skin guru Kate Somerville for the 5 telltale signs to look out for and the products guaranteed to make you glow again. Grab a tall glass of water (because that is the best remedy, of course) and take notes.
Healthy, Hydrated Skin
Dry, Flakey Skin
Is your skin feeling especially flakey? That's your first sign of dehydration. To remedy that, Kate recommends "balancing skin by exfoliating 2-3 times per week, hydrating with a serum, then sealing in the hydration with a moisturizer to prevent moisture loss."
Cracked Lips
Since you are what you eat, Kate stresses, "it's important to stay hydrated through eating water-rich fruits and vegetables and consuming essential fatty acids. And don't forget to drink lots of water (aim for half your weight in ounces)." It also doesn't hurt to have a super hydrating lip balm nearby at all times.
Extra-Pronounced Dark Circles
If your dark circles are looking more pronounced than usual, you're definitely experiencing some dehydration. Kate suggests to "look for products containing Hyaluronic Acid, which holds 1000 times its weight in water."
Deeper Fine Lines And Wrinkles
"If you live in or are traveling in extreme climates—either hot and dry or very cold—look for a product that will form a protective barrier on skin to maintain moisture levels," advises Kate. A thick moisturizer will protect you from the elements and keep skin bright and hydrated.
Lackluster Skin
Now that you've imbibed the appropriate amount of water and hydrated topically, it's time to break out the big guns. Kate tells us, "additionally, I recommend sleeping with a humidifier to add more moisture to the air and keep skin hydrated."