5 Fall Skincare Tips From Chrissy Teigen's Facialist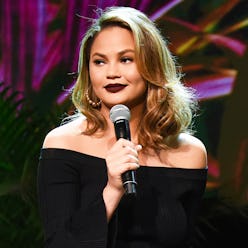 As a beauty editor, there's one question that floods my inbox this time of year: "What moisturizer should I use for fall?" Anyone who works with skincare—beauty editors like myself, aestheticians, derms and salespeople—will agree this subject is on everyone's mind as crisp autumnal winds start to blow. While I have my own tricks, such as retiring my drying anti-acne serums until spring and switching to a thicker eye cream, I figured it would be wise to get advice from a real pro. And LA facialist Shani Darden, who treats Chrissy Teigen, Rosie Huntington-Whiteley, January Jones, Jessica Alba and Emmy Rossum among others, is the pro of pros in my eyes. She's also the formulator of a beloved retinol serum that frequents many a shelfie.
"When the weather switches and it's a lot colder, people usually complain about being really dry," Shani explains. "For some people with naturally dry skin, you're not producing enough of your own natural oils. But for someone oily who starts to feel dryness, it's usually just because you're using so many products that are harsh and your skin can't hold its hydration."
Okay, so how do we get it right so we can start having glowy, dewy, angel skin again? Here, Shani's best advice for transitioning your skincare for fall.
ADD A SERUM
"With truly dry skin, you can get away with a heavier moisturizer, but for everyone else—people with oily skin or people that have problems with their skin—there's not a lot of heavy moisturizers that don't clog your pores. I'm not a fan of oils, either; they almost always cause congestion. Instead, I like layering things. I would add a hyaluronic acid serum or aloe-based gel before your moisturizer. Always do thinnest to thickest, letting one product penetrate [the skin] before you put on the other. I love IS Clinical Hydra-Cool Serum and Dr. Barbara Sturm Hyaluronic Ampoules. The ampoules are more hydrating, but someone with oily skin would like the Hydra-Cool."
To read the full article, head to Coveteur .