Add Some Acne Positivity To Your IG Feed With These 10 Skin Care Influencers
Because all skin is worthy of a double tap.
@its_just_acne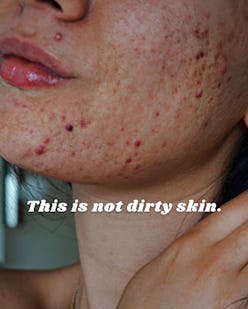 For years, acne and facial blemishes were villainized in mainstream media and pop culture. Acne marks and scars were meant to be hidden under layers of makeup or disguised using lighting or even a hat. Basically, if you had even a single pimple on your face, it was shameful and you were supposed to deal with it immediately. But in 2022, tolerance and acceptance for less than perfect skin has luckily expanded, and skin care influencers who promote acne positivity are filling up IG feeds everywhere.
Acne is no longer something to be embarrassed by, and thanks to more education and visibility on social media platforms, people dealing with acne can see that it's actually incredibly common, affecting up to 50 million Americans each year according to the American Academy of Dermatology. "Normal" skin is textured and no one should let beauty filters or editing hacks convince them that skin is supposed to be perfectly smooth and even. Hopefully, this wave of acne content creators will continue to destigmatize the skin condition and prove to anyone struggling with breakouts that it's okay to be proud of your complexion, no matter how it compares to anyone else. These influencers are working to change the narrative and let their followers know that every condition of skin is in.
Keep scrolling for 10 acne-positive skin care influencers to follow on Instagram right now.
If you are someone who struggles with acne or breakouts, these influencers are ready to help you love yourself from the inside out!