Should You See A Dermatologist Or A Plastic Surgeon For Injectables? Here's What Experts Say
hedgehog94/Shutterstock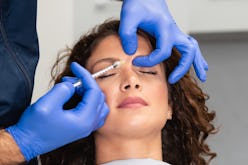 You know you're ready to dive into the wild and wonderful world of injectables — the only thing you're *not* sure of is where to start. Should you go to a plastic surgeon for fillers and Botox? A dermatologist? That random med spa you've seen advertised at the gym? There are all kinds of practitioners claiming they can work their magic with a single flick of the wrist, but unfortunately, not all of them are legit. So how do you know who to trust? Experts say there are a few things to keep in mind when finding the right type of doctor for you — but first and foremost, make sure they're actually qualified.
Read more: Here's How To Help Your Injectable Filler Last Longer
Read more: How To Budget For Injectables — According To 9 Women Who Get Them Regularly
"When selecting a physician for injectable procedures including soft-tissue fillers and neuromodulators (i.e. Botox), the most important consideration is to make sure the physician is board-certified," Kathleen Cook Suozzi, M.D., director of aesthetic dermatology at Yale Medicine, tells TZR. "Both board-certified dermatologists and plastic surgeons are properly trained to perform injectable procedures as well as to manage the complications. A skilled dermatologist or plastic surgeon will be able to advise you on what procedures will help you achieve your desired results."
Read more: The Real Pros & Cons Of Injectables, From Women Who've Used Them For 5+ Years
Read more: How To Budget For Injectables — According To 9 Women Who Get Them Regularly
It might seem obvious to see a trained and certified physician for a procedure bringing needles into contact with your face, but in practice that doesn't always happen. As injectables become more popular — a according to a new report released by the American Academy of Plastic Surgeons, nearly 16 million non-invasive cosmetic procedures were performed in 2018, with soft-tissue fillers and neuromodulators like Botox overwhelmingly the most common — there's a greater chance of encountering a provider who lacks the proper training and experience.  And because both neuromodulators and dermal fillers require regular maintenance and follow-up appointments, finding a doctor you're comfortable with for the long haul is so important. Most experts agree that both dermatologists and plastic surgeons are equally qualified to administer age-fighting injectables such as Botox or fillers, but you're still going to need to do your research. Here's what to look out for.
This article was originally published on