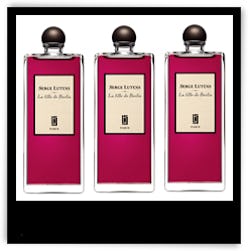 While our noses are no newbies to the luxury scents of Serge Lutens, the label's latest perfume is definitely fresh territory. Typically, the famed French label releases a trio of concoctions each year, but for 2013, they are putting the sole focus on the singular La Fille De Berlin Fragrance. Our take? It is freshly fabulous!
Defined as elegant and velvety, this seductive scent captures a darkly romantic essence that will be loved not only by the wearer, but by all those they encounter too. Its mixture of red rose and red pepper combine to form a ruby-hued, metaphorical spritz that represents one's ability to overcome life's dramas, ultimately becoming their most beautiful self. Induct the distinctive spray into your fragrant rotation this season and turn to it as a secret weapon whenever your outfits need a little extra allure.
Availability: Serge Lutens La Fille De Berlin Fragrance ($120). For additional information, visit Sergelutens.com.