Secret In-Flight Beauty Treatments Every Fashion Girl Swears By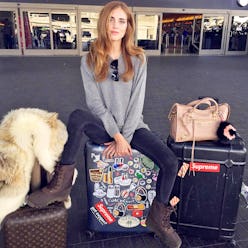 Why is it that we feel like the walking dead when getting off a flight but celebrities and models breeze of a plane looking red-carpet ready? Hint: It's all in the secret in-flight beauty treatments. Here, find out how fashion girls turn an airplane cabin into a spa without the person next to them even knowing. Follow these tips.
Fly Fabulously
Moisturize Your Skin
Exfoliating your face removes the top layer of dead skin and allows you to fully absorb your moisturizer. Reach for a pack of exfoliating wipes to prep your skin without even leaving your seat, then liberally apply a hydrating face cream.
Get Rid Of Under-Eye Bags
Early flight? Under-eye bags make you look tired, no matter how much rest you've gotten. Avoid reclining your seat and sitting for too long—this causes your body to retain fluid in all areas, including your eyes. Instantly relieve puffiness by using an eye roller or an ice cube and don't forget to stretch often. Now you'll look wide-eyed and feel awake when you land.
Deep Condition Your Hair
Airplane cabins and poor ventilation have a way of drying out your hair and making it frizzy. Apply a leave-in conditioner to hydrate hair and wrap your it in a head scarf to keep bacteria out. You'll step off the plane with beautiful locks, all the while channeling your inner Brigitte Bardot.
Keep Your Skin Hydrated
If you're taking a long flight, packing a face mist will make all the difference. Every hour or so, spritzing a toning spray will keep your skin healthy, hydrated and glowing.
Give Yourself A Facial
If your skin still doesn't feel up to par after all of that, why not try a mini facial? Yes, we're serious. Apply a clear cream-gel mask (translation: invisible) that penetrates the skin and doesn't require rinsing.
Indulge In A Manicure
Hands can easily be forgotten during a busy travel schedule. While a full-on manicure might be out of the question, making sure your hands and cuticles are moisturized will make you feel much more put together. Slather on a deep-conditioning hand treatment and cuticle oil before you nap.
Add A Touch Of Makeup
If there's zero chance of you wandering around a terminal barefaced when you deplane there are only a handful of essentials you need to look flawless. A BB cream and a hydrating lip balm are great for dry skin damage control. Pack a multitasking lip and cheek stain for a flush of color and a cream highlighter to dab on cheekbones and the inner corners of your eyes. Finish with a swipe of mascara on your upper lashes only (skip lower lashes to avoid looking like a raccoon).