Silky Smooth Lips In A Flash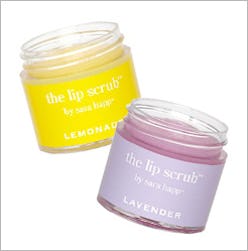 There are few more frustrating beauty qualms than being plagued with dry lips—letting them be makes us look like we just trekked the Sahara, while a cover-up attempt leaves disaster-prone, bump-laden lipstick. To ensure a smooth canvas, we regularly turn to Sara Happ, who just debuted two new flavors of her cult favorite Lip Scrub!
Introducing Lemonade and Lavender varieties into the mix, buffing our way to the perfect pucker has never been so tasty! To use, simply apply a generous amount to lips, massage in a circular motion and remove excess with a tissue—what remains is an expertly exfoliated and hydrated canvas that begs for the addition of some bright gloss! Get to sloughing with Sara Happ's sweet scents—summer-ready lips await you!
Availability: Sara Happ Limited Edition Lip Scrub in Lemonade and Lavender ($24 each) available at Nordstrom.com.