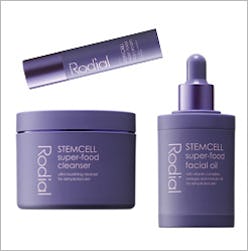 Summer skin can be easy to keep looking healthy but once the weather turns colder, the onset of dull, dry skin begins. Enter: British beauty brand Rodial's new super food skincare line, packed with antioxidants, omegas and vitamins that nourish and bring life back to a dull, dehydrated complexion.
Rodial's mission has always been to utilize natural ingredients in order to improve skin's health and this new range includes plenty of heavy-hitters including Marula Oil, an African oil which hydrates and smoothes fine lines, and PhytoCellTec™ Alp Rose, which charges stem cell resistance and protects skin cells against UV stress. There's also Omegas 3, 6 and 9 and Vitamins A, B5, E and C. Super-food, indeed.
The new skincare system includes a nourishing cream cleanser which comes a muslin cloth for daily exfoliation, a vitamin-packed facial oil and a light moisturizer that illuminates and plumps up skin for a smoother appearance. For true converts, there are treatments for lips and hands, too.
Availability: Rodial Stemcell Super-Food Cleanser (6.8oz), $38; Facial Oil (1oz), $80; Day Cream (1.7oz), $52.