Let It Shine: In Love With Luminizer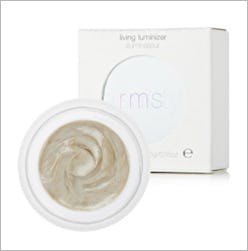 For the woman who needs a pick-me-up at the end of a long day—and don't we all? —RMS may just be our savior! As the first truly organic makeup line, RMS's cult-classic natural products are formulated with raw, food grade, organic ingredients that your skin will love.
Enter the brand's Living Luminizer. We're a sucker for anything that promises to enhance our natural youthfulness—and we were sold when we heard it was a makeup artist staple. This flattering-on-all luminizer adds a glow without shine, highlighting the skin and giving it an instant lift.
To get the glow, apply delicately with the tip of your fingertips. Tap along your cheekbones, on browbone just under your eyebrows, down the bridge of your nose and on the bow of your lips. To open up tired eyes, apply gently to the center of eyelids, just above the lash line. And for an instant fix, mix Living Luminizer with your concealer for a brightening effect.
Availability: RMS Beauty Living Luminizer,$38