Get 3 Rockin' Makeup Looks With Rimmel London And Kate Nash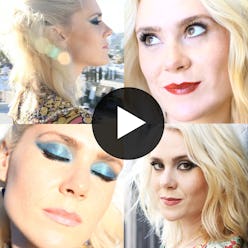 Get ready for a night out with The Zoe Report, Rimmel London and Kate Nash and our 3 "rockin'" makeup looks that will have you looking like a star no matter what is on the agenda.
Date Night Look: Bold Lip and Full Lashes
After you've applied foundation and light eye shadow, draw focus to your eyes with Scandaleyes Rockin' Curves Mascara. Finish off with a light stroke of brown liner under the bottom lash line.
Make your pout pop by layering a classic red lipstick under a rich burgundy gloss.
Night Out With The Girls Look: Metallic Eye and Pink Lip
Take your look from day to night with a smoky eye shadow quad. For perfect dimension, apply light colors on the brow bone and inner corners of the eyes. Blend a black shadow into the creases and create a wing at the outer corners.
Add warmth with a rosy gloss and a pink lip liner. Blend a touch of bronzer from the apples of your cheeks to the temples.
Performance Look: Cobalt Blue Cat Eye and Nude Lip
Prep you skin with a matte foundation and then apply an eye shadow primer to your lids and under the bottom lash line to achieve the brightest color possible. With a creamy shadow stick, trace along both lash lines, creating a wing and extending the color to the entire lid.
Finish off the look with a metallic, nude lip.
Show us how you rock your makeup for a night out and enter for a chance to win Scandaleyes Rockin' Curves Mascara for you and 20 friends.