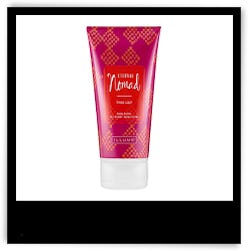 In addition to drinking tons of water, the next best thing you can do to prevent skin dehydration in the winter is to keep a renewing cream close by. Supply your day bag with one of these nourishing lotions and you'll stay smooth all season.
Illume , Eternal Nomad Body Butter, $16
Avoid dry skin with this new paraben-free, lily-scented body butter.
Jo Malone , Body Crème , $75
A super-luxe way to stay moisturized, Jo Malone's formula relies on a combination of yummy scents (peach, plum and honey) to pamper your epidermis.
Kate Somerville , Body Rescue Cream , $45
No run-of-the-mil lotion, Kate Somerville's luxe concoction locks in moisture for up to 24 hours and packs plenty of anti-aging benefits.
Laura Mercier , Ambre Vanille Souffle Body Cream , $55
Infused with a heavenly vanilla aroma, this silky body butter is like dessert for your skin with vitamin-rich rewards.
PACIFICA, Body Butter , $18
Last but not least, we chose this coconut cream because it evokes a sultry exotic scent that makes it perfect to pack for a resort getaway.