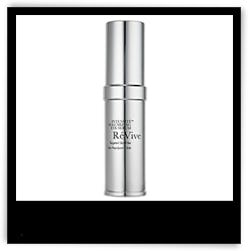 No one likes to think about aging, but it is a reality we all must face—literally. Thankfully by the mercy of the beauty gods, we now have access to unprecedented products that really seem to turn back the hands of time. RéVive's Volumizing Eye Serum comes to mind as one of the most groundbreaking wonders to enter our line of sight recently.
Though no delicate pat to the wallet, this advanced formula truly lives up to its price tag. Capable of banishing the puffiest, darkest raccoon eyes, it works to deflate under-eye bags while simultaneously imparting a youthful, refreshed look. The perfect partner in crime to your morning—or 5 o'clock—cup of coffee, RéVive's gem of a concoction will leave you wide-awake with every use. So, how do you take your anti-aging serum? We'll order ours straight up please!
Availability: RéVive Intensité Volumizing Eye Serum ($350). For additional information, visit Reviveskincare.com.