Red Lipstick Shades For Every Girl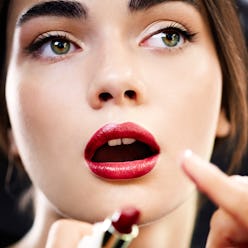 Finding the right red lipstick is much like finding a good mate: It needs to complement you, work in every situation and— most importantly—when you find the right one, you just know. With so many products and shade options, finding your perfect match is no easy feat. Inspired by the amount of fab red pouts we've seen on runways as of late, we decided to hunt down the top bold hues on the market this fall. No matter what your coloring, we have one for you. We promise.
True Red
Like your favorite LBD, you can never go wrong with a classic red lipstick. Reach for vibrant cherry reds with blue undertones to make teeth look super white. For a timeless look, add a swipe of crisp black eyeliner and the darkest black mascara you can find.
Photo: Courtesy of Burberry
Berry Red
Applying a deep, moody red is an easy way to take your look to the next level. A groomed brow and dark brown shadow take the sophisticated style even further. Try a thick layer of clear gloss for a juicy finish.
Photo: Courtesy of Matthew Williamson
Soft Red
If your beauty regime is a bit more reserved, you can still rock a red lip without stepping out of your comfort zone. Seek out reds with peach undertones and then blot on with a finger for a subtle effect.
Photo: Courtesy of Oscar De La Renta
Vibrant Red
If you're an unafraid and unhibited makeup girl who doesn't shy away from wearing bold colors and constantly trying the latest trends, a bright red lipstick with a hefty dose of orange is your next go-to shade. Trust us, orange is the new red.
Photo: Courtesy of Burberry
Merlot Red
Elegant wine shades are truly versatile, regardless of skin tones and lip shape. Draw focus to your pout by applying a lipstick with a matte finish. Pair with an equally matte foundation and bold, statement brows and voila! Gorgeous.
Photo: Courtesy of Tibi