10 Beauty Items To Keep In Your Purse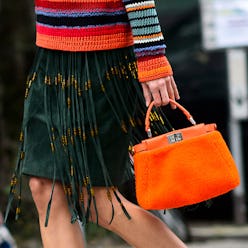 Since you never know what a day will bring (or who you may run into while wearing yoga pants), your purse should always be stocked with a small arsenal of items to get you out of any beauty jam that may come your way. From oil-blotting sheets to roll-on perfume, these beauty buys are the best investments you can make. You'll thank us the next time you run into an ex in the produce aisle.
Carry these 10 beauty items on you at all times, and you'll always be prepared. What's more chic than that?
Photo: Adam Katz Sinding
Concealer
Haven't you heard? Dark circles are never be on trend.
Mints
OK, this isn't exactly a beauty item, but there is nothing beautiful about bad breath. Go for teeny-tiny mints.
Blotting Sheets
Banish embarrassing shine in two seconds flat.
Lipstick
Always carry a shade of fire-engine red lipstick—just in case of an emergency.
Perfume
Get your roll on with a travel-sized perfume.
Face Powder
When the day takes its toll, freshen up with a quick coat of powder.
Lip Balm
Fashion girls should never have flakey lips (so not kissable), so don't forget your lip balm.
Antiperspirant Wipes
Some days are more difficult than others. Just make sure you always smell fresh as a daisy.
Band-Aids
We've all been there: Excited about the shoes, not excited about the blisters. Don't get caught limping into a meeting.
Makeup Bag
Because toting your items in a cute carryall is half the fun.