Pink Makeup: The Color To Wear Now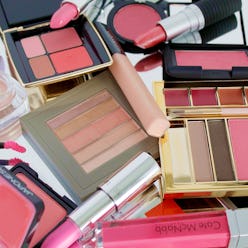 With Breast Cancer Awareness Month in full swing, we have all things pink on the brain. We've already rounded up our favorite pink outfits and beauty products that give back, but now we're excited to honor BCA with an array of fun makeup in all shades of the color. Shop our favorite pink makeup and look pretty while showing support for a fantastic cause.
October is the time to think pink!
Mascara
Eyelashes are meant to take center stage, and what easier way to accomplish that than with a fuchsia-colored flutter? The bold eye pairs best with a black-winged liner and nude lips.
Blush
Who says you need a boy to make you blush? You can buy that kind of natural flush! Here, a few of our favorite pink powders sure to get the job done sans your latest crush.
Lipstick
The color of lipstick a woman chooses says a lot about who she is. We think pink says a lady is pretty darn lovely. Light shades of pink are best paired with a rosy cheek, while brighter hues are a look all their own.
Eye Shadow
Pink eye shadow may not be your go-to, but it probably should be, especially for girls with light-colored eyes. Use matte finishes for daytime and add some sparkle for a night on the town. Keep your complexion fresh and dewy to complete the look.
Lip Gloss
It's always your turn to shine when you have a great lip gloss on hand. For a youthful look, wear with a clean face and a touch of mascara.