People's Choice Awards Warmup: 2014's Best Beauty Looks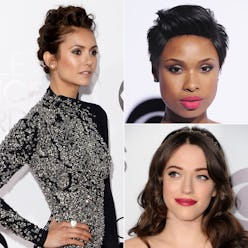 With the People's Choice Awards practically upon us, we're remembering out favorite beauty looks that hit the red carpet last year – they were just that good. From Jennifer Hudson's fuchsia pout to Nina Dobrev's pretty faux hawk, we're shopping out the best products for you achieve their looks at home. The only thing more exciting than recreating last year's best looks is the slew of new ones we get to see tonight.
And the winners for Best Beauty Looks Of 2014's People's Choice Awards are...
Jennifer Hudson
The singer turned actress offset her white ensemble and short 'do with a bright pink lipstick.
Tip: Choose one with blue undertones to make your teeth look even whiter.
Kat Dennings
Known for her sultry look, Kat chose a winged liner to elongate her eyes.
Tip: A cat eye that points out and slightly curves upward gives you sexy, bedroom eyes. One that points straight up gives you feline-like eyes that point down in the inner corners.
Heidi Klum
The supermodel did not disappoint with her sculptural hairstyle – and we loved that it showed off her pretty face.
Tip: Get a chunky braid by adding a texturizing spray before slightly teasing at the base of your pony. Pull braid apart one section at a time to add even more bulk.
Naya Rivera
Naya shocked viewers when she showed up with caramel hair, killer contour and an uncanny resemblance to Kim Kardashian.
Tip: Get sun kissed-looking skin (rather than looking like you piled on the bronzer) by applying along the hairline, cheeks, jawline and don't forget the neck.
Nina Dobrev
We couldn't think of a better beauty to make a braided faux hawk look classy.
Tip: Use a wax pomade to sculpt your hair without making it look too slicked back.