Everything You Need To Know About The OUAI x Summer Fridays Collaboration
OUAI x Summer Fridays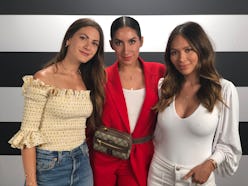 You can't scroll, double-tap, or DM without seeing OUAI on your Instagram timeline. The line, started by celebrity hairstylist Jen Atkin, isn't just all haircare anymore — it's a lifestyle. OUAI's line of products, fragrances, supplements, and merch are all wrapped in sleek, minimal packaging that are made for shelfies. What's even cooler about the cool girl brand is that Atkin isn't shy about strategic partnerships... she's teamed up with Off-White (for a supplement pillbox) and Benefit Cosmetics (for beauty tutorials) among other brands throughout the years. However, the newest OUAI x Summer Fridays collaboration might be the most organic partnership so far.
"It was apparent from early on that our online communities really connected with each other," Lauren Gores Ireland, co-founder of Summer Fridays, tells TZR. "We'd constantly see people sharing photos of our products together on Instagram, so it was clear that a collab like this would be a natural fit on both ends."
The OUAI x Summer Fridays Masque Set — available for $22 on Dec. 25 on OUAI and Sephora's respective sites, and Dec. 26 in-store at Sephora — will contain the Jet Lag Mask (an ultra-rich moisturizer made with vitamin C, niacinamide, and chestnut extract) along with OUAI's Treatment Masque (made of artichoke leaf extract and keratin) and a terrycloth headband.
"This is the ultimate package for the busy girl who needs some 'me' time," Ireland describes of the two-for-one special. "She probably doesn't have time for a 90-minute massage or facial, but she'll indulge in some downtime with a hair and face mask combo." The team also hopes that the collaboration will target the traveler, as both masks come in 30-ml TSA-friendly sizes... something that the founders can relate to firsthand. "I'm constantly on the go. I loved the Summer Fridays Jet Lag Mask from day one because it rehydrates my skin to another level. I apply it on planes and on days where I need to look alive, and it removes any puffiness and gives me the hydration I need," Atkin tells TZR.
Ireland and fellow co-founder Marianna Hewitt sing similar praises about OUAI's offerings: Ireland calls the Wave Spray her "can't-ever-live-without" product, while Hewitt counts the Air Dry Foam and Matte Pomade among her personal faves. Aside from the products, the Summer Fridays team has so much love for Atkin's OUAI because Atkin showed love, too. "Jen has been a huge mentor of ours from day one — always supporting our big dreams for Summer Fridays before we even launched. It's another reason why this collaboration is particularly special to us — it feels like it's all coming full circle," Ireland continues.
The collaboration (a first for Summer Fridays, which launched in earlier this year) is one that all three women hope to see replicated within the industry... especially among other women.
"Something that Jen has really taught me is that there is room for everyone," Hewitt notes. "So instead of being in competition with other people in your industry, just be collaborative, because no one uses all of one product or one brand. It's better to just support each other than to compete. I really believe that Jen not only speaks it but lives it."