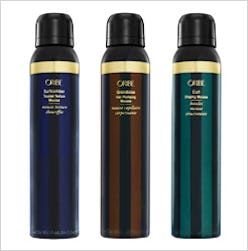 Summer hair can tend to get tricky—heat and humidity don't always bode well for our finicky locks. When we need to regain control, we're turning to Oribe's brand new trio of styling mousses, catering to a range of haircare needs.
Since no mane is perfect, hone in on your primary concern then choose your formula—Surfcomber for tousled texture, Grandiose for hair plumping or Curl for frizz-fighting and shaping. Each mousse is infused with the luxe ingredients we've come to expect from Oribe, from fruit extracts to wheat protein and sweet almond oil. Heat-protecting, shine-inducing and deeply conditioning, Oribe's newest formulas are trusty companions to lead your locks to victory this summer!
Availability: Oribe Surfcomber, Grandoise and Curl Mousses ($35-$37 each). For additional information, visit Oribe.com.