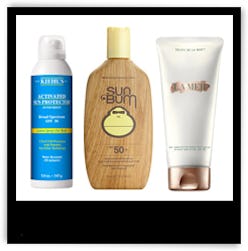 Summer is rapidly approaching, and that means one thing: time to stock up on sunscreen! Picking the crème de la crème of all the protective brews out there can be somewhat time-consuming. But lucky for you, dearest Zoe Reporters, we've accomplished most of the heavy lifting and assembled our favorite sun-care products for your perusal.
Sun Bum SPF 50 Sunscreen Lotion, $16
Lotion Shield your skin from the sun while enriching it with Vitamin E and antioxidants with Sun Bum's brew.
Kiehl's Sun Protector Spray, $25
We love the convenience of this ultra-lightweight sunscreen spray that provides non-greasy protection.
La Mer The Reparative' Body Sun Lotion Broad Spectrum SPF 30, $85
This versatile concoction from La Mer offers extensive anti-aging benefits in addition to renewing the appearance of existing damage for glowing, firmer and healthier-looking skin.
Kate Somerville Body Glow Sunscreen Broad Spectrum SPF 20, $45
Kate Somerville's formula relies on a SolarX Complex, rosemary and antioxidants to protect and firm the skin.
Sisley Paris Body Sun Care SPF 15 $160
Composed of an exclusive protector-complex with plant extracts, geranium and lavender, Sisley Paris' formula will help you achieve a safe, luminous and long-lasting tan.