See What's New In Korean Beauty Products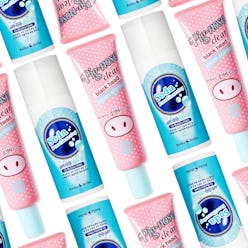 Korean beauty products are on the up and up in the world of skincare, makeup and hair care and shows no signs of stopping. With outrageous ingredients–like snail slime, egg yolk and kelp masks– kitschy packaging, and super-affordable prices, K-beauty has grown from an overseas niche market to a worldwide phenomenon known for their innovation and incredible results. Here, 6 beauty buys that represent the best of what's happening in Korea right now—no plane ticket necessary.
Face Cream Stick
Miss Flower & Mr Honey Essence Stick, Banila Co., $19
Applying a cream moisturizer to your face with your fingers is so old school. Instead, use this solid stick to rub collagen-enhancing goodness all over your face.
Carbonated Face Wash
Soda Pore Cleansing O2 Bubble Mask, Holika Holika, $21
Formulated with carbonated water and baking powder, this face wash sounds more like a science experiment than a cleansing product but it gets deep into your pores to remove dirt, oil and makeup like magic.
Facial Steam In A Tube
Pig Nose Clear Blackhead Steam Starter, Holika Holika, $10
As we all know, steam opens pores which allows you to get an extra deep clean. Lava clay in this product creates heat and softens blackheads for easy extraction.
Sheet Mask–For Your Hair
Friendly Argan Hair Masks Set Of 3, Sally's Box, $14
Sheet face masks are all the rage in Korea but now they're made for getting great hair. Wrap your hair in this plastic mask and let the mix of olive and argan oils seep into your scalp.
Cushion Foundation Compact
Face 2 Change Photo Ready Cushion BB, Holika Holika, $33
It's like having a BeautyBlender sponge built into your foundation routine. Every pump infuses air into makeup to fill in fine lines and deep pores.
Sea Kelp Face Mask
Organic Sea Kelp Facial Sheet Mask, Whamisa, $14
We bet you never thought that essence-infused kelp straight from the sea would be the key to hydrated, glowing skin. We didn't either but we're glad someone did.