New Beauty Staples That Launched This Month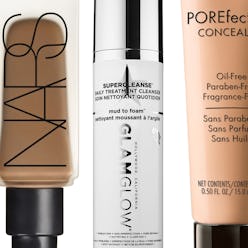 We admit that when we find a product we like, we stick with it–but as easy as it is to fall into a tried-and-true beauty rut, we're the first to buy a slew of new products when they hit shelves. Whether you need to infuse some color into your day-to-day makeup look, spice up your cleansing routine or just try something new, these beauty buys are sure to quickly become your favorite vanity staples. We promise you won't be disappointed.
Good As New
Foundation
NARS has created some of our favorite products over the years and they're at it again–this time with a weightless, 16-hour wear foundation. Brighten skin, neutralize redness and hide discoloration without having to cake on the product.
Cleanser
Their powerful, deep cleansing mud masks have developed a cult following so naturally, GlamGlow hit us with a life-changing daily cleanser. Like nothing we've seen before, this face wash starts off as a mud and turns frothy to rinse away impurities.
Lipstick
Perfect for the on-the-go girl, these innovative lipsticks were made for one-handed use. Like a lighter, hold the stick in one hand and flip the top open with your thumb. Now you can reapply your lipstick without having to put down your phone–amen!
Concealer
The newest addition to Lorac, this concealer is free of oils, parabens and fragrance, comes packed with antioxidants and provides impeccable coverage. A drop under the eyes and on blemishes brightens your complexion without clogging pores.
Lip Gloss And Lipstick
MAC is at it again with yet another Viva Glam collaboration. This time, the mega-beauty brand teamed up with controversial singer, Miley Cyrus to create a hot pink lipstick and high-shine lip gloss. Layer the 2 or wear each one solo.
Nail Polish Remover Wipes
Nail polish removing wipes have saved our lives a few times but these Butter London dual-textured ones are perfect for removing stubborn glitter. Pack a few in your purse and say goodbye to hopeless-looking manis on the go.