What Happened When We Tried Natural Deodorant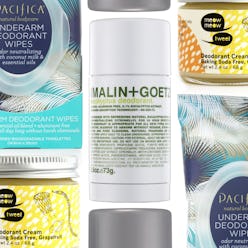 When it comes to deodorant, leaving the house with a product that potentially won't work is as scary as it is completely unfair to those around you. But if you're trying to detox your medicine cabinet of harsh chemicals, keeping cool when it's hot out is no easy feat. We're taking the risk factor out of your beauty routine and trying 7 natural deodorants so you don't have to.
Au Naturel
"I went to a wedding in the Catskills a few weeks ago, and my roommate commented on this deodorant when she saw it in my case, saying she loved the brand–it was all very hipster. Performance-wise, it proved surprisingly effective (in the woods and the city) but the scent is powerful so you've got to be down with vetiver and lime (a rustic combo) in order to make this your mainstay. Sort of like in high school, when the guys who wore Old Spice just emanated the scent."
Megan Gustashaw, Editorial Director
"Because I've never had a problem with sweating, I used to think all deodorants were a one-size-fits-all type of buy. It wasn't until I started experimenting with natural versions that I realized some actually are sweat inducing. Luckily I found one that kept me dry and smelling fresh all day (perhaps because I opted for the stronger, sport version). My favorite part about this one is that it has a hint of menthol so it has a cooling effect when I put it on."
Stephanie Montes, Beauty Editor
"I'm definitely trying to be a more conscious consumer (admittedly difficult, but the facts out there are scary), so seeking out a natural deodorant has been high on my priority list. A few that I like best are L'Occitane's roll-on formula (it's technically for men, but I love the musky scent) and Malin + Goetz Eucalyptus Deodorant. I think the biggest, most frustrating thing with switching to a natural deodorant is the transition period that it requires—Malin+Goetz includes this tip with its product: 'If transitioning from a pore-clogging anti-perspirant, please allow two weeks as your body adjusts.' So basically—give it time to see if it actually works for you."
Kristi Mikesky, Fashion And Beauty Editor
"I love the lavender scent of this deodorant and most importantly, I love knowing that this product has no aluminum or other harmful chemicals that most drugstore deodorants include on their ingredient list."
Shannon Nash, Fashion And Beauty Editor
"Once I got past the lack of applicator stick (you rub it in with your fingertips), I liked it. I did smell faintly like a bug-repellent candle, but it held up well during a long day at work—although I didn't put it through a vigorous workout. All things considered I'd recommend packing it for vacation because it's tiny and efficient."
Nicky Deam, Fashion Director
"There are 2 important reasons I swear by these: They are great on-the-go and are super discreet, which makes midday touch ups a breeze. Even more important, they really work and smell good like coconuts!"
Christian David, Art Director